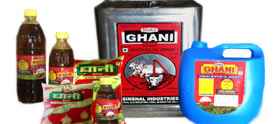 Our Products
Our branded pure Mustard oil is cold pressed from traditional kolhus which gives "Kachi Ghani" flavour and natural pungency. Mustard oil has lowest level of saturated fats, high content of ...
Heart Friendly
The study conducted by experts from All India Institute of Medical Sciences (AIIMS) and Sir Ganga Ram Hospital compared fat content in different cooking oils, including olive oil, ...
Quality
Quality has always been at the heart of company's performance. We treat quality & health as a way of life. Quality, health and customer satisfaction with competitive price are the foundations ...
Customer Feedback
Our Clients Say Double Ghani is Best
Double Ghani Brands

comprise a range of healthy cooking oil brands in mustard thus catering to the tastes and preferences...
Double Ghani Mustard Oil Agmark Grade -1

, 100% Pure and Natural. Extracted from Traditional Kholu Process, filtered and tested in competent Lab.
Double Ghani Mustard Oil

offered by us remains fresh, healthy & hygienic for long period of time due to which it is widely used for cooking foods.